June 21, 2015.

Dear Friends,

We will gather together for our Badaliya and Peace Islands Institute faith sharing on Sunday, June 21,2015 from 3:00 pm to 4:30 pm at St. Pauls Church in Cambridge, in the small chapel located in the Parish Center. Please join us in person or in spirit as we encourage Interfaith relations and pray together for peace and reconciliation in the Middle East and especially in the Holy Land.

During our last few months we entered into the spirit of the meaning of the events of Easter in our Christian tradition and last month celebrated the canonization of our Patron Saint, Mariam of Jesus Crusified in solidarity with the Carmelite communities around the world. On this final gathering before our summer break, and in solidarity with our Muslim members as they begin this year's Ramadan month of fasting, prayer and alms giving that began on Wednesday June 17th, it seems most appropriate to focus our attention more directly on our Inter-faith mandate to pray for Peace and Reconciliation and an end to violence in the Middle East and especially in the Holy Land.

For those of us who believe in the manifestation of God's commandment to love one another as evident in our ability and willingness to befriend and share our lives with those of different faiths and ethnic heritage, especially with our Jewish, Muslims and Christian brothers and sisters throughout the world, we join our prayers to those living in the Middle East and especially in the Holy Land who have suffered and continue to suffer from persecution for their faith, occupation, and oppression of any kind.

On May 25, 2014 Pope Francis made a surprise stop to pray at the Bethlehem separation wall. Here is what was reported in the news:

But Sunday's unscheduled prayer had the weight of symbolic imagery. Israeli guards watched from a fortified guard tower overhead as the Pontiff stepped down from his Popemobile and made his way to what may be the most photographed section of the Wall, as the barrier is colloquially known -- a graffiti-rich section that tourist buses pass by entering from Israel en route to Bethlehem, which, along with the rest of the West Bank, Israeli troops have occupied since 1967.

As security and staff formed a cordon through several dozen well-wishers lining the motorcade route, Francis made his way to the towering concrete wall. He stopped at a panel spray-painted, in black, "Pope we need some 1 to speak about Justice - Bethlehem look like Warsaw ghetto" and in red paint, "Free Palestine." He bowed his head in silent prayer, laid his palm against the wall, and before leaving touched his forehead to it.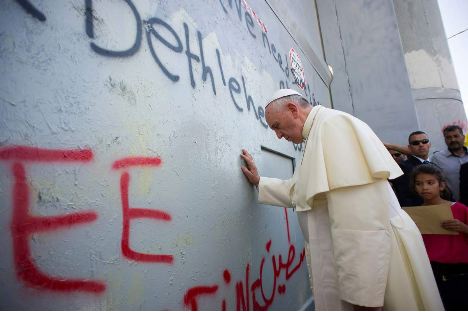 Following is the prayer of the former pope Benedict XVI on his pilgrimage to the Holy Land:

"Blessed are the peacemakers, for they shall be called sons of God. (Mt.5,9)

PRAYER OF BENEDICT XVI AT THE WESTERN WALL
Jerusalem, Tuesday,12 May 2009

God of all the ages,
on my visit to Jerusalem, the "City of Peace",
spiritual home to Jews, Christians and Muslims alike,
I bring before you the joys, the hopes and the aspirations,
the trials, the suffering and the pain of all your people throughout the world.
God of Abraham, Isaac and Jacob,
hear the cry of the afflicted, the fearful, the bereft;
send your peace upon this Holy Land, upon the Middle East,
upon the entire human family;
stir the hearts of all who call upon your name,
to walk humbly in the path of justice and compassion.
"The Lord is good to those who wait for him,
to the soul that seeks him. (Lam 3:25)!

May these witnesses of God's love for all of us inspire us throughout the summer and always.

Peace to you,

Dorothy